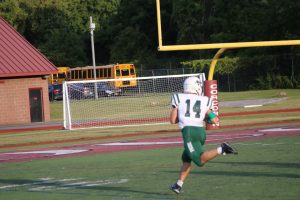 Late in the 2016 season, when Eric Coley suffered a hand injury that required season-ending surgery, Fayetteville-Manlius called up Mitchell "Seabiscuit" Seabury and Zack Page for the playoffs.
Though the Hornets ended up losing to Baldwinsville in the sectional quarterfinal and finished with a sub-.500 record, the end of the season was as productive as the beginning of it because of that emergence of these two speedsters.
That little bit of experience made the difference at the beginning of this season. Instead of stepping into the primary running back role at the beginning of their junior years without any experience, Seabiscuit and Page came into the season knowing what to expect.
More importantly, they knew that a lot would be expected from them and they were replacing a player who is irreplaceable in Coley.
F-M's head coach, Paul Muench, said that, every day, Seabiscuit and Page showed that they were unintimidated by the idea that they were taking over for Coley with their hard work in practice. Muench said that he wasn't surprised by their performances because they work well with teammates and then because "the work ethic both guys have in practice is a model for other players."
He took some time to think about Seabiscuit and the season that he had. "I think he is underestimated by his opponents," Muench said, "because he is not physically imposing, they do not respect his speed and power as a runner."
Muench unlocked the treasure chest that contained the Seabiscuit who showed up in the locker room every day, not the Seabiscuit who everyone saw rush for 1384 yards and 21 touchdowns in six games this season."
He is also cognizant of the fact that he is a part of the team and his teammates helped him get into open field. His congratulations to his linemen was authentic," Muench said of Seabiscuit.
That Seabiscuit was present when he spoke about how he will remember his junior season, as he shifted the focus to his team. He took the opportunity and talked about how the team didn't have anything or anyone special, but just had a good work ethic.
"I am going to remember my junior season as, a team that played with a lot of effort," Seabiscuit said, "and even though we weren't the biggest or loaded with D-1 players, that football team played with the most effort and heart I've seen in a long time."
The running back went on to talk about what he is most proud of on a personal level and what he is looking forward to the most for his senior season.
Seabiscuit said, "for me personally, I had a lot of fun in terms of letting people know what is to come for next season, and next year's team and I are more than excited to build off what we did this year."