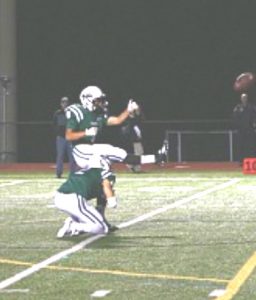 Kickers may be the type of players who get none of the credit when they win a game for their team and all of the blame when things don't go as planned, but they have an extremely underrated job, no matter how you look at it.
They don't typically see their names on the front page of the local newspaper, or get an applause when they kick the ball through the uprights. They just get on the field, do what they do, and jog to the sideline.
That's just what John "Leggy" Egnaczyk spent the fall doing for the Fayetteville-Manlius football team. The only recognition he got was from teammates and coaches, but he just was humble while doing what he did best — kicking the pigskin through the yellow posts.
Leggy was about as automatic as high school kickers get, as he accounted for 49 points this season and converted on all but one of his kicks. He had three games where he converted on 7-of-7 extra points.
And that was really important to F-M throughout the season, considering the fact that many of its opponents weren't as skilled at the position.
By being as consistent as he was, Leggy put some pressure on the other teams and the opposing kickers.
His head coach, Paul Muench alluded to that while looking back on Leggy's season. "John is clearly one of the best kickers in the league," Muench said, "in both the Henninger and West Genny wins, we held two possession leads despite being only a touchdown apart and we made our PATs and they didn't."
Leggy added to that and reminded us how important the extra point is to the game of football and ruled out any idea of taking it away from the game, as he said that it is extremely valuable to the sport he loves.
"I think it's very important because it can determine late-game decisions and even games themselves," Leggy said while reminding us that the extra point is underappreciated.
He said that the value that he places on the extra point doesn't put any pressure to his shoulders because of the trust that he has in the little things that go into kicking a ball through the uprights and the confidence he has in his teammates.
"I know I can trust my mechanics and my teammates around me," he said, "I have learned to trust them enough that I have confidence that it will go through the uprights."
Muench shares that belief with his kicker and said that the coaches are "thrilled to have him back next year."