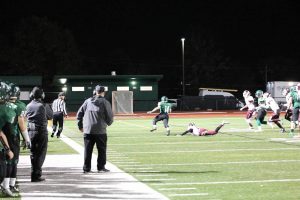 Struggles on both sides of the ball denied Fayetteville-Manlius a victory and a home playoff game when they hosted Corcoran to close out the regular season.
The 40-23 loss came a week after the Hornets lost star Eric Coley to a dislocated finger that sidelined him for this game. Although Coley's injury forced the Hornets to switch up the game plan, it shouldn't carry all the weight of the loss.
Despite the momentum from the win on homecoming night and the excitement of what was ahead, the Hornets struggled on the three phases of the game, as they were having trouble following through with the fundamentals of football.
But, as usual, head coach Paul Muench and his assistants found a way to put a positive spin on this as they talked to his players after the game. Their advice to the players was to "let this one soak in" and they were encouraging them to allow this loss to help them prepare for Sectionals.
Throughout the game, Coley's absence forced the Hornets to experiment with a variety of players, but, they continued to rely on the ground game for the night. Coach Muench tried to take some of the pressure off of one specific player and found a way to spread the wealth a little bit.
Sophomore Mitchell Seabury, who scored twice in his first appearance with the team, had another very good all-around performance. In the first quarter, he carried the Hornets into the end zone a few plays after Luke Hamel faked a punt. Aside from that, Seabury finished the game with 96 rushing yards on 13 attempts.
Along with giving Seabury and the Hornets that opportunity, Hamel scored a touchdown of his own and then Brody Phelan converted the two-point conversion as he caught the pass from Henry Josephson and then fellow running back Deion Travis found the end zone.
Phelan also had 19 receiving yards on 3 catches.He and Tyler Van Orden accounted for over half of Josephson's 77 passing yards.
Defensively, the Hornets would have trouble executing and tackling players. They were doing a good job of forcing Corcoran deep in the backfield initially, but, couldn't contain them there and really struggled to tackle fully.
There were a few instances where either the running back or quarterback of Corcoran struggled to get anything going at first, but, found ways to use their legs to extend the play or to gain a few yards, which exploited the struggles that the Hornet defense was experiencing.
Although this loss really hurt for the Hornets, they have to use this as a learning experience and allow it to make them work extra hard in their preparation for the playoff game at Baldwinsville.