Fayetteville-Manlius had a tough night when they visited Christian Brothers Academy to close up the month of September, as they failed to get on the scoreboard and allowed 41 points.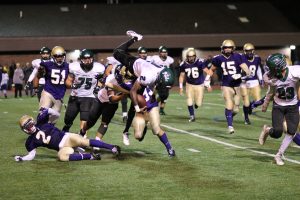 The 41-0 loss was a tough thing for the Hornets to swallow, as they were riding the momentum from two straight 20-point victories, but, they found out that CBA is a tough place to get a road victory, especially on homecoming night.
As usual, the homecoming crowd was more than engaged and added to the tensions between these two teams. CBA's student section was looking to help their team protect their unblemished overall record and the Hornets were looking to remain perfect in league play.
The first possession just showed all that this game represented for these teams. F-M followed Coach Paul Muench's traditional mentality and elected to receive the opening kickoff and ended up driving it down the field.
But, from there, it wasn't F-M's night to steal an away win. It was loud. It was rainy. And, for the Hornets, it was frustrating.
That drive ended up in an interception for quarterback Henry Josephson, one of three interceptions total and one of two passes that was picked off in the in the end zone. Each of the interceptions were converted into CBA touchdowns.
Josephson would end up with 62 yards on 4-10 passing and completed passes to Ryan Cicci, Eric Coley, and James Rettinger.
Coley saw a big drop in his yards per carry this game. At the start of the game, CBA assigned a defensive player to follow the Syracuse commit around, but, got away from that as the game progressed. Coley still ended up with 130 yards on 24 carries in the game.
Defensively, the Hornets would experience struggles throughout the game, as CBA would continuously give them doses of their own medicine.
Running back Stevie Scott of CBA caused chaos and confusion for the Hornet defense. Because the offense struggled to stay on the field, the defense was fatigued early and would struggle more and more as the game went on and Scott took advantage of it.
Fayetteville-Manlius had a tough night on both sides of the football when they faced CBA.