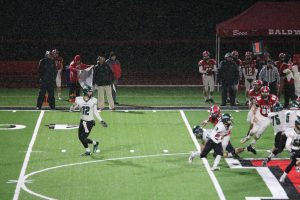 Momentum at the end of the first half wasn't enough to overcome the hurdles that would pop up and trip Fayetteville-Manlius throughout the 42-6 loss to Baldwinsville that knocked them out of the playoffs.
The road loss came just a few weeks after F-M (4-4) lost star running back Eric Coley to a dislocated finger that required surgery and denied him the opportunity to support the offense, as he did for most of the regular season.
Coley, who spent the game with his hand in a cast, just spent the pregame routine and halftime with the team and was keeping his hand dry in the booth during the game. Both on the field and on the sideline, his leadership was missed, as Coach Paul Muench had to mix-and-match a little more than he's used to and the other Hornet players had to keep each other engaged in the game.
Nature didn't help the Hornets, either. The dampness in the air and the rain discouraged the Hornets from experimenting with the passing game. However, quarterback Henry Josephson was able to record 99 passing yards and completed a 57-yard touchdown pass to Ryan Cicci.
Josephson ended up 4-of-6 with that touchdown pass and also completed a 24-yard pass to Zack Page and two lobs to Tyler Powell for 16 yards.
As it was throughout the last regular season game, the running game for the green and white was like a broken engine — every time it looked like F-M had something going, something would bring them back to square one.
Page and fellow running back Mitchell Seabury carried most of the load for the Hornets. Seabury, who has shown that he isn't afraid of contact, earned 53 yards on 13 attempts, and Page, whose style is more like Coley's and bases itself on speed, picked up 96 yards on 11 rushes and caught a 26-yard-pass.
Defensively, the "effort was there," as Coach Muench put it to his team after the game, but, the Hornets really struggled to find an answer to Baldwinsville's offense.
The away team would have trouble putting a stop top to Baldwinsville's running game and their efforts weren't enough to halt the trio in the backfield for Baldwinsville.
The number one running back for Baldwinsville, Jack Buis, took advantage of his strong blocking convoy and accounted for 203 of his team's 317 rushing yards.
Still, defensive lineman Luke Ovadias of F-M was able to push his way through the offensive line and ended up getting to the quarterback and recorded a sack.
Fayetteville-Manlius struggled to generate momentum on either side of the ball in the loss to Baldwinsville, which restrained them from advancing further along in the playoffs.