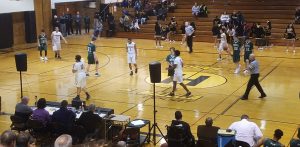 Shooting struggles haunted Fayetteville-Manlius from beginning to end and made it difficult for it to climb the entire mountain, leading to a 73-49 loss to Henninger.
The Hornets just couldn't make a shot from long range, but the more problematic situation planted itself at the free throw line, which is where the momentum swung.
Looking back, free throws were missed throughout the game. F-M (4-5, 0-4) had many opportunities to gain an advantage from the line. There was one or two times when it missed front ends of one-and-ones and a few other instances where it missed free throws after getting fouled shooting the rock.
When it comes down to it, the Hornets couldn't handle the press and just threw the ball along the baseline whenever they were under pressure. And then they played right into Henninger's hands once the second half approached and the game sped up.
Still, the free throw struggles changed the game. F-M was finally climbing back into the game and cut the deficit to five points just before it began to struggle and Henninger put the clamps on.
No matter how you slice it, it was the same stuff haunting them as it has been throughout the season. Slow starts. Scoring. And just the baggage that comes with those two things.
The Hornets were down to 16-2 right off the bat. Even though they were able to fight back and chop at the deficit, they just couldn't contain the athleticism of Henninger (8-1, 3-1) enough to claim any sustainable and meaningful lead or momentum.
But the real problem came offensively. F-M was able to get stops in the second quarter and held Henninger scoreless for about five minutes in that quarter, but the problem was that they scored just two points themselves in that span.
Next up for the Hornets is an away game at Baldwinsville. Henninger plays at West Genesee next.