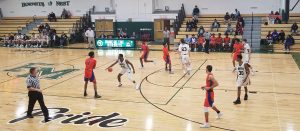 Scoring just 11 points before halftime built a mountain that the Hornets couldn't climb in the second half of their 68-59 home loss to Nottingham.
But despite the first half that it would like to forget, Fayetteville-Manlius dug deep and gave itself a chance to win at the end, an opportunity that quickly vanished after the Hornets failed to take advantage of it.
F-M (3-4, 0-3) scored 48 points in the second half, after head coach Jason Dudzinski made a few adjustments. The game sped up, which is usually something that hurts the Hornets, but this time it worked out for them.
Though basketball is played in a gymnasium, the weather had a major impact on this contest. Instead of being on Friday night like the original schedule said, after school activities were canceled because of snow and the game was rescheduled to Saturday morning.
Before after school activities were officially off the table for Friday, the students at F-M were ready to support their classmates. They were ready to begin the holiday break with a student section full of a bunch of students with their ugliest sweaters on.
Instead of having a full gym to get motivation from, the Hornets needed to energize one another.
In that second half, Khai Pugh helped F-M find a rhythm and prove that they can score. The 48 points in the final 16 minutes is frustrating given that they haven't had the offense to complement the above-average defense so far this season.
If you want to be optimistic, you could say that the way that the Hornets came out in the second half is a sign of good things to come, but it shows one thing about the players on this team.
They don't give up. We saw it when they launched a 21-point comeback to beat Rome Free Academy in the Peppino's Invitational and we saw it again here. With this group, the score and their effort have no correlation.
The 48-point second half is just as exciting. Sure, F-M isn't going to post 48 points every half, but if it can get 15-20 points per quarter, it is going to win some games, especially with its defense.
Defense was a priority for Rume Egiebor, as it has been throughout the first month of the season. Egiebor, who joined the Hornets this year as a senior, scored 11 points and played as hard as he could on both ends of the floor.
Next up for F-M is an away contest against East Syracuse-Minoa (2-2, 1-1) on Wednesday, a makeup for the cancelation on Dec. 19. Nottingham (4-1, 2-1) hosts Baldwinsville (2-3, 1-1) on Jan. 3.