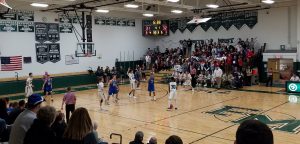 Surrendering offensive rebounds off of missed free throws cost Fayetteville-Manlius the game when it lost to Cicero-North Syracuse, 57-52, in overtime.
Whenever a team gives up second and third possessions, it kills any chance that it has of gaining the momentum. And that's what happened to the Hornets (5-8, 1-7) in Friday's loss.
They played good defense on the initial possessions, but would foul at the end of the possession and C-NS (11-2, 6-2) would either make its free throws or miss them and get the offensive rebound.
And that denied F-M from going on a game-changing run at the end of the third quarter and beginning of the fourth.
The Hornets began to pick up some steam when Ethan Page started to really run the offense at the end of the first half, which energized the offense enough to go on a mini-run, but not enough to compensate for what C-NS was getting off of free throws.
But F-M's head coach, Jason Dudzinski, has different reasons why his team lost this contest. He said that the Hornets "lost the game because of the first two or three minutes and the last two or three minutes."
"We can't get down 12-2 all the time. We outplayed them the whole second half," the head coach said, "there's lots to be proud of, lots of silly mistakes that cost us games, but I'm sick of losing and I'm sick of losing at home in front of our fans."
The Hornets haven't won a home game all season, which is something that may be costly down the stretch. They have Baldwinsville, Henninger, and West Genesee left at home, so winning two of those three games would be a huge step in their goal of making the playoffs.
They would qualify for the playoffs with three more victories.
If it continues to execute its offense like it did on Friday, F-M won't have any trouble with getting into the postseason. As a team, F-M knocked down six three-pointers and got to the line 25 times.
F-M's next game is Wednesday at Baldwinsville.