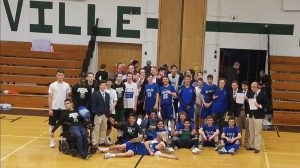 Tuesday night, the Fayetteville-Manlius boys' basketball team and Immaculate Conception's CYO team clashed and gave themselves and the community the long-awaited matchup that will be remembered for years to come.
Even though F-M end up beating IC, 68-53, it was really a back-and-forth affair that lived up to the hype. The student-athletes had been thinking of the perfect way to organize this for a few years.
And this was the year that they found that perfect way. F-M's student council collaborated with their administrators and the teams to create the contest that many have been waiting for while supporting Camp Good Days and Special Times, an organization that provides support for children of families who are directly impacted by cancer.
The idea of supporting Camp Good Days on top of watching their classmates compete against one another drew many students to the game. The students cheered non-stop and added an extra boost of energy and emotion to this game.
But it was the players who made this a game to remember for everyone involved. Both teams were comprised of F-M students and there were pairs of friends separated by colors of pinnies, and the two sides created a competitive, electrifying atmosphere, so the crowd had a lot to be enthusiastic about.
The two sides didn't go a minute without chirping. The players were chirping and the coaches were chirping and constantly challenged one another. And then the crowd reacted to every little thing and made every possession seem very valuable.
Those cheers echoed throughout the gymnasium that saw the varsity basketball teams compete until the 2015-16 season, when F-M debuted the court that holds more spectators. Players' families and classmates overfilled the bleachers across from the team benches.
That crowd made itself heard even more as the game progressed. As the Hornets began to pull away, its coaches, Armando Adrian, Charlie Gadsden, and Joey Anderson, unleashed and told their team to just have fun, which is when the game became really interesting.
F-M, which consisted of the seniors on the varsity team, treated it like a practice and made this a memorable experience. The players were relaxed and wanted to have as much fun as they could, something that both Alex Bychkov and Cade Collum accomplished when they had their first dunks of the year.