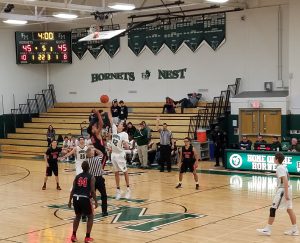 It would have been easy to allow the unfavorable odds and the frustrating moments to dictate how it played in this game, but Fayetteville-Manlius chose to just go out and play the best it could against Utica Proctor.
Even though F-M ended up losing this non-league matchup 53-49 in overtime, the relentlessness that head coach Jason Dudzinski has instilled in it was on full display. Up until fatigue began to set in during the overtime period, F-M (5-12, 1-10) was holding its ground and giving itself opportunities to win the game.
One of the seniors for the Hornets, Alex Bychkov, who has been playing very well as of late, tried to get his team going at the beginning of overtime. With Khai Pugh on the bench to start the game due to a violation of team rules, Bychkov got the start and made the most of it.
But he waited until the most important part of the game to leave his mark. In the opening possession of overtime, Bychkov got two offensive rebounds, including one off of his own missed layup, and then put it back up and laid it in.
After that, it was mostly about Utica taking advantage of the fact that the Hornets were fatigued. Nevertheless, before that, it was about the heart that F-M showed and how it didn't quit.
That passion expressed itself as the clock wound down and when things became tough for F-M at the end of regulation. F-M was down one point with under 10 seconds left in regulation when Pugh attacked the rim with authority, got fouled, and went to the line for two free throws.
During that trip, Pugh missed the first one and then Proctor (10-8, 6-4) called a timeout. After his coaches and teammates calmed him down, he stepped up to the line for one more and found the middle of the cylinder, tying it at 45 and forcing that overtime period.
In the midst of that, the Hornets were focused on holding Proctor off, no matter what it took. They found a rhythm that hasn't been a major part of their season and is the complete opposite of what their season has entailed.
F-M had three-pointers on four straight possessions in the closing minutes of the third quarter. Once Pugh heated up and gained a little confidence, he was able to get the Hornets over the hump, as he hit two of those three-pointers.
The other two three-pointers during that spurt came from Chris Lubrino.
The Hornets visit Liverpool on Tuesday. Utica visits Whitesboro Tuesday as well.