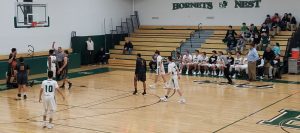 Turnovers caught up to Fayetteville-Manlius in the second half of its 72-47 home loss to a very good Henninger team.
F-M had a 10-second violation, a few errant passes, and just couldn't control the tempo of the game after halftime. Unlike the first half, F-M didn't play as well as it needed to in the final 16 minutes if it was going to win this one.
That was apparent from the time the ball was inbounded to get the second half going. It looked like F-M had Henninger on the ropes, but the first few minutes of the third quarter went Henninger's way and the momentum followed shortly after.
Just like any basketball team in a game, the key for the Hornets going in was to avoid turnovers, but it felt like that was even more necessary than usual. When F-M visited Henninger earlier this year, it hung in there for a few minutes, but wasn't able to go into halftime with any momentum because it turned the ball over and had empty possessions.
This time around, F-M did have the momentum going into the halftime break. It was 27-20 and F-M had the lead and was motivated to get a big win, especially after having the success it had in the first half.
But the momentum it had quickly diminished after it came out of the break and struggled. Some of its go-to guys were in foul trouble and couldn't be as aggressive as usual and that hurt it.
Once Henninger tightened the screws, that became a major issue. The Hornets needed their best guys out there, and they needed them to be at their best, but a few early fouls prevented that from happening and made it difficult for the Hornets to play their best basketball.
Nevertheless, the junior varsity team did, indeed, play its best game of the year, as head coach Zaire Coore led the guys to an emotional first win. Zach Vinci hit the buzzer-beater to win the game.
Friday, F-M hosts Baldwinsville in its Pink-Out game. Henninger also plays Friday, when it hosts West Genesee