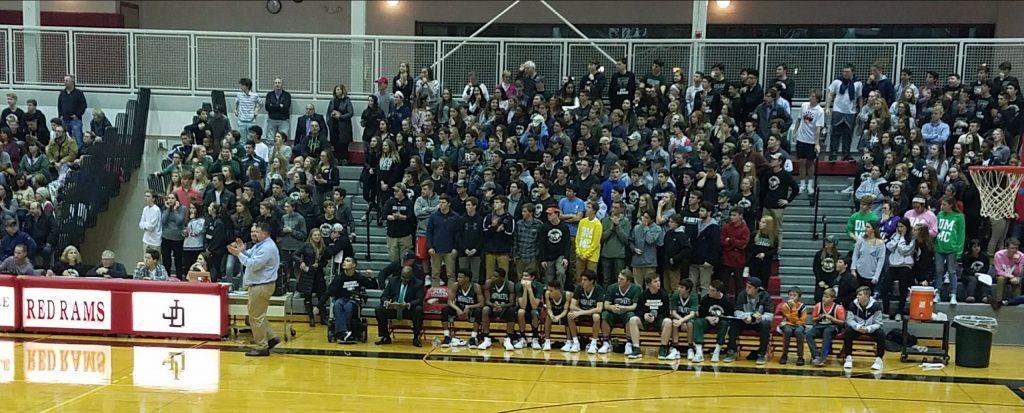 Every time Fayetteville-Manlius would take a free throw, Jamesville-DeWitt's student section would be as loud as possible, and whenever J-D would prepare for a free throw, F-M's student section would commentate the process of shooting at the foul line.
That's how the crowd reminded the players that this wasn't just the non-league game that it appeared to be on the schedule and meant a lot more than any ordinary contest.
F-M's 51-47 road win was special. It served as retaliation for the loss suffered to J-D (2-2, 1-0) in last season's rivalry game. It was on the road. It was something that the entire team and community contributed to. And then it was a demonstration of how relentless this team really is.
More importantly, this game, not the result, meant something to families who the players don't even know, as it raised money for Camp Good Days and Special Times, a non-profit organization that has a variety of ways of supporting families who have been impacted by cancer.
F-M's determination and the injury that J-D's Preston Shumpert suffered in the first half changed the complexion of the contest and gave F-M (3-1) the momentum, allowing them to turn a three-point deficit into a four-point halftime lead.
Nick Papa was a huge part of the Hornets and their success. The point guard just played extremely hard and showed, not only what kind of player he is, but what kind of competitor he is, especially when he was at the line and knocked down two foul shots to secure the win.
Hornet head coach Jason Dudzinski said that the win is huge, just because the league games are going to be tough and nothing is going to come easy.
In order for them to accomplish their goals this season, they are going to have to go out every game and play their hearts out, just like they did in this game.
Still, Dudzinski told his team that, when it comes down to it, the win and the results of the games take the back seat when they are associated with Camp Good Days.
Papa, just like Tyler Schneider and Alex Bychkov, was in double-figures for F-M, which visits East Syracuse-Minoa on Tuesday. Meanwhile, J-D has some time off and hosts Oswego on Friday.