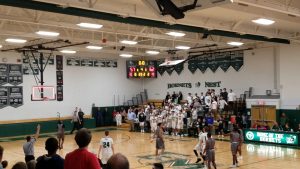 As the crowd was seeing the final seconds of the third quarter pass by, Fayetteville-Manlius lost track of a dark gray jersey and gave Corcoran a simple layup.
That miscue was the beginning of a frustrating ending for F-M and had its own way of shifting the momentum. Instead of having a one-point lead going into the fourth, F-M was down by one and didn't have the momentum home teams typically have, eventually leading to the 61-57 loss.
But Hornet head coach Jason Dudzinski said that the easy layup that his team surrendered doesn't deserve to take all the blame for the loss. He reminded his team that it came up short because of missed opportunities on the offensive end.
He said that they missed too many "bunnies" and said, "that can't happen at the varsity level." The Hornets (3-2, 0-1) came up short on a handful of layups and then they struggled from the free throw line down the stretch.
If they convert on the majority of the easy baskets that they missed, the Hornets probably win the game.
Dudzinski also said that they played well and were relentless and those struggles were the reasons why they fell short. He told his guys that he is proud of the effort, but the game always comes down to the little things that they do in practice everyday.
Going into the game, if you told somebody that the score to this game would be in the high 50s to low 60s, they would have said that F-M won, considering the idea that F-M is a good defensive team and doesn't like to take part in high-scoring affairs.
Despite that, the Hornets have to live with the loss. They have to move on and try to get better from this game and come up with a few takeaways from the entire contest instead of dwelling on a few plays and playing the "if" game.
Most importantly, F-M has a chance to get revenge on Jan. 16, when they visit Corcoran (3-1, 1-1). But, they can bounce back when they host an undefeated Cicero-North Syracuse team (7-0, 2-0) on Tuesday. Corcoran's next game is also Tuesday, and it's home, against Baldwinsville (1-3, 0-1).