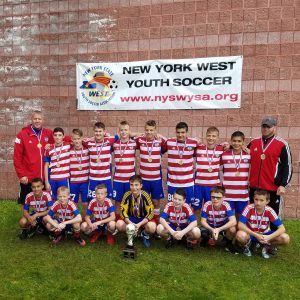 A perfect record in the New York West State Cup secured a spot in the Region I Championships for the 2003 boys of United Soccer Alliance.
Their 3-0 record in Cortland finished something that USA and their head coach, Shannon Colton, had been thinking of for a while and accomplished a goal that they fell just short of last year.
Colton said that the "cruel" 1-0 loss to BYSA Soccer Central that kept them from reaching Regionals in 2016 brought up the feeling of sadness and made his team "work even harder" for the berth in this year's Regional Championship.
He had that in mind when he took a chance and ignored the changes in the age matrix. United States Youth Soccer's decision to go from dividing teams by grade to compose teams of players born in the same year split a lot of good teams, but Colton chose to keep his team together, even though it meant some younger players would be at a disadvantage.
"This is the reason we kept this team together," Colton said, "They have a very special bond and not accomplishing our goal of winning State Cup last year was something we had to get for all of them this year."
He also said that they were prepared for that game and did play their style of soccer, but he acknowledged that he knew that the transition from an 8-on-8 game to the 11-on-11 style of play would require them to strengthen their team and add some pieces.
That's just what happened for them. Francesco Pagano, Antonino Pagano, and Ethan Caruana joined their team since the loss to BYSA Soccer Central and all have contributed greatly to the journey.
Colton said that, when he first worked with Caruana, he wasn't expecting him to be the player that he has evolved into. Colton added, "there was three other boys that I thought would really impact our team, but Ethan was the one who stepped up and earned a starting spot."
He praised how far the defender has come. After talking about how he is has defied the expectations that he had in mind at first, Colton said that he is "very proud of the player he (Caruana) has become."
Caruana scored USA's second goal in their 2-0 revenge victory over BYSA Soccer Central, but saved many goals throughout the weekend.
So did Carter Jackson. Jackson had two assists in the 6-2 win over Syracuse Development Academy 14U Boys team and scored a goal and assisted one against BYSA Soccer Central.
The third defender, Casey Philips, also helped USA post some other impressive numbers. If you count the play-in game, which they dominated and won 4-1, the Predator defense only allowed three goals in four games
As for the midfield, it was Bryce Koagel and Cameron Stuart who held down the fort. They did a terrific job of being supportive of their teammates on the field and created a sturdy bridge between the defense and forwards.
And the addition of the Pagano brothers "was a true surprise to me and all of our team," said Colton. He said that both brothers are constantly bringing the team to "another level. "
He spoke about how Francesco Pagano gives the Predators what they were missing in the past. The forward was described as a "pure scorer" by his head coach, who then added that he "fits into our system very well."
Francesco Pagano had six goals throughout the weekend and had a hat trick when USA came out victorious in the play-in game, which was the win that allowed them to compete in Cortland.
One of Francesco Pagano's goals in the win over Rochester Fútbol Club 14U Boys was a breakaway. He lost the defense and settled a punt from Matthew Gera, took a touch or two, and slid the ball passed the goalie into the net.
The play-in game also saw Antonino Pagano shine. When USA played Lakefront Premier 14U Boys at Cazenovia College, Antonino Pagano scored a goal of his own and then saved a potential goal from finding the back of the net.
Caden Stafford also put his name in the book with his two goals against SDA, the game that also saw his brother, Casen Stafford, pickup an assist.
Tyler Colton and Scott Schuyler were unintimidated by their lack of size and helped the Predators claim the long-awaited spot in Regionals.