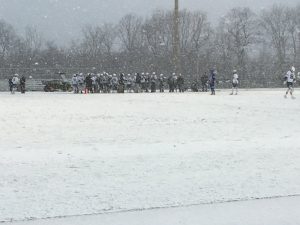 At intermission, the turf was covered in the snow that typically falls in February, and Fayetteville-Manlius athletic director Scott Sugar was jogging up and down the sidelines, trying to uncover the boundary lines.
In its 12-3 win over Cicero-North Syracuse, F-M found a way to be the more resilient team and ignore the nasty weather conditions, which quickly became about as unplayable as they can get, allowing them to come out with the much-needed victory.
Although it was just the fourth game on the schedule, this win means a lot to F-M. It's a reminder that they can push themselves when things become difficult, but more importantly, it was their first league win and snapped their two-game losing streak.
During that funk, the Hornets suffered a pair of one-goal losses to Baldwinsville and Liverpool, which is the kind of thing that either unites a lacrosse team or divides it.
It glued this one together.
Right from the start, F-M (2-2, 1-2) set the tone and showed that they were going to win this game, regardless of the weather or anything else. The entire team was engaged, hungry, and ready to do anything to get the wheels spinning in a positive direction.
That was on full display with 7:14 left in the third quarter, when Cal Isley received a pinpoint pass from Nick Papa and dumped the ball in the net, and the F-M sideline erupted. The players in white screamed, yelled, and celebrated their teammate's first career varsity goal.
Isley, who played lacrosse at the modified and freshman levels, but stopped to focus on basketball, assisted Sam DiChristina's goal on the possession before he found the back of the net. He took us through that assist and shared why he values it just as much as he values the goal.
"Once I picked up the ground ball, I naturally just looked back for a trailer and, luckily, Sam was there to finish," Isley said, "I was excited for him to score his first varsity goal and I thought it was pretty cool hearing my name announced on the loudspeakers."
He also said that the goal he scored is a memory that is fogged up by all of the excitement of the moment, but will be around for a long time.
"It was on a fast break, so it was kind of a blur. Nick Papa made a great pass and I just reacted. It felt great to get mobbed by my teammates and it was all just really exciting overall," he said. "After the fact, I kind of came to the realization that 'wow I just scored a goal on varsity lacrosse' and that was awesome."
This was, undeniably, a well-deserved moment for the senior. He was on the junior varsity basketball team as a sophomore and then moved up to varsity for his junior and senior years, and had a limited role all three seasons, but he never pouted or hung his head. He just went to practice everyday and encouraged his teammates, as he has done early this year.
Isley and the Hornets will use this win to build off of and as a confidence-booster throughout the rest of the season. Their next game is Saturday, at Jamesville-DeWitt, and C-NS (3-4, 0-3) hosts Baldwinsville on Thursday.