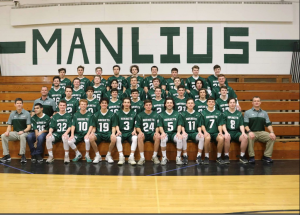 When the Fayetteville-Manlius boys lacrosse team takes the field and represents its school this season, it will be different from the teams that have cradled, shot, and wore the green and white in the past.
First of all, it will be guided by different coaches. There will be no Tom Hall, Chris Kenneally, or any of their assistants. It will be Doug Madden, Eric Wood, and Brian Concannon leading the charge for F-M, but the fresh coaching staff doesn't mean that returning players will forget the lessons they learned at the end of last season.
The Hornets suffered a gut-wrenching loss to Baldwinsville in the sectional semifinals last year, when they had a last second goal waved off at the end of regulation, so they don't expect to be given anything this season and look to be in the running for the sectional championship when all is said and done.
Even though it lost six players who received offers from Division I schools and another to IMG Academy, talent isn't an issue, but as Madden constantly tells his players, it is work ethic during practice and games that will dictate how successful the team is.
Aside from the coaching staff, this is a team of hard workers and leaders. Madden said that he wants all of his players to take it upon themselves to become leaders and most of them have done so early on.
Madden said, "I would love to have a whole team full of leaders. That is what we preach daily. We want the boys to push and lead each other for sure."
It has been obvious throughout practice so far that Sam Stratton, Nick Papa, and Jack Shanley have adopted those leadership roles, something that the team lacked last season. The trio leads by example and isn't afraid to get on their teammates about working to accomplish the ultimate goal.
Stratton indicated that work ethic is going to determine the ceiling for this team and expects himself to be the leader he can be. "It's all about hard work. We need to get after it every practice and work as hard as we can, and when game day comes, we need to be focused all day and think about what we work for."
He was on the varsity team as a sophomore last season, so you he knows what it takes to win. "I want to stay focused on what we need to do every day, and correct the little things so that when game day comes we can fit all the little pieces together to get a W. I want to have a loud voice on the field and help lead the defense," Stratton said, "in the end, I expect to win a sectional championship."
Papa alluded to some of the minor details that Stratton was speaking of and how, as a captain, he wants to value the intangible things. "On the field I tell my teammates to listen to our coaches and play to win," he says, "off the field I tell my teammates to pay attention to film and the scouting report."
Papa, Stratton, and Shanley will have to be the leaders they can be if the Hornets are going to accomplish their goals.