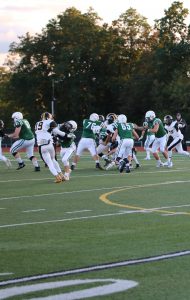 A big night from Mitchell Seabury steered Fayetteville-Manlius to a 49-38 victory over Henninger in their first home game of the season.
Seabury, who ignited the crowd and added a little more excitement to the contest, used his speed and strength throughout the night, as he rushed for 341 yards and six touchdowns.
In the second half, Seabury had five touchdowns, all of which came at the right time for the Hornets. He scored two touchdowns as Henninger tried to gain the momentum and had a 48-yard score right out of the gate.
The junior just kept the wheels turning for the Hornets (1-1) in the fourth quarter. Seabury would score three times in the quarter and helped F-M pull away from the Black Knights whenever the game got close.
Soon after Henninger responded to Seabury's quarter-opening touchdown with two scores of their own, Seabury scored again to put the Hornet lead at 10.
The two teams exchanged touchdowns one more time and Seabury's sixth sealed the deal for the Hornets.
F-M's coaching staff met with their team after the win. Head coach Paul Muench reminded his guys that there was a time when F-M just couldn't beat Henninger and that they should be proud of the win, but not satisfied with it.
No matter how you look at it, it was an improvement from the opener against Corcoran. Tackling was better. There was more energy. And the Hornets established the running game that they will need to be successful.
But, early on, it looked like F-M was in for a long night. Henninger (0-2) woke F-M up when their speedy running back, Nasir Jones, broke out for a 77-yard touchdown. The Hornets weren't going to let anything of that nature happen. Zack Page gave F-M the 7-6 lead shortly after Jones' touchdown and then Seabury scored his first of the game to give F-M the 14-6 lead at halftime.
Mikey Porter did a better job of being the mobile quarterback that he can be throughout the night. He found room for a few runs that will catch the eyes of opponents and will make the Hornets offense harder to defend.
With the first win out of the way, Porter and the Hornets travel to West Genesee next week and Henninger is on the road for a matchup with Central Square.