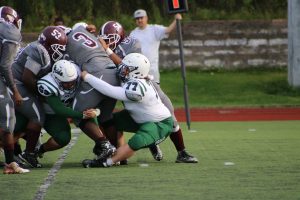 Three fumbles stalled the Fayetteville-Manlius offense and prevented the defense from getting a breather when they visited Corcoran in the opening weekend of the high school football season in Central New York.
The momentum in F-M's 41-22 loss fell into Corcoran's lap as they dominated most of the game and just wore out the front line with their powerful running game. At one point in the second half, Corcoran scored 20 straight points.
Brody Phelan and Deion Travis scored touchdowns in the fourth quarter to ease the run. Altogether, the Hornets were outscored 27-13 in the second half, including Corcoran's 13-0 run that spanned throughout the third quarter.
But it was the fumbles that changed the direction of the contest. The Cougars turned two of the fumbles into high quality drives that ended in touchdowns, which sucked the energy out of the Hornet sideline.
Corcoran (1-0) had a pair of threats coming out of the backfield. Senior fullback Jaquail Everson rushed for 125 yards and a touchdown while his teammate, junior Jerome Davis, racked up 94 yards with two scores.
Davis and Everson exploited the things that F-M (0-1) wasn't doing well. They were initiating physicality. F-M wasn't. They were making their way past the defensive line. F-M wasn't winning the battles up front or getting in the backfield.
The Hornets just didn't do the things that are needed to win an away game on a Friday night. It's as simple as that.
F-M's head coach, Paul Muench, spoke to Syracuse.com's Nolan Weidner after the loss. "We just didn't have the ball. When we actually had the ball, and held onto the ball, we moved it pretty well," Muench said, "we just played too many plays on defense."
Adding onto that, because of the amount of time that F-M's defensive unit spent on the field, fatigue played a major role in the struggles that they faced as the game progressed and created a frustrating second half.
As the first half was winding down, Hornet running back Mitchell Seabury broke out for a 65-yard touchdown run to cut the deficit to 14-9, but Corcoran came out with 20 straight points in the second half to take control of the game.
But, F-M has found a way to move forward and allow this loss help them improve as a unit. Their junior captain and linebacker, Tim Shaw, said, "we're all gaining experience, and we're only going to get better each week from here on out."
Shaw and the Hornets host Henninger on Sept. 8 and Corcoran visits Central Square the same night.