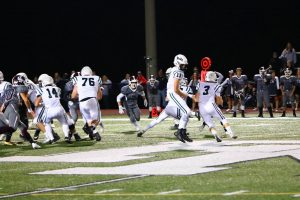 Disappointment is the one word that describes the mood of the Fayetteville-Manlius football team when it knelt in front of head coach Paul Muench after the 32-10 loss to Central Square.
And it was self-inflicted wounds that kept the Hornets (3-3, 3-2) from being the team that they have been throughout the season. They had three turnovers and just struggled to get Central Square (5-1, 5-1) off their backs.
Those turnovers were crucial. Zack Page almost had a touchdown right before halftime, but he couldn't create enough separation and hadn't switched hands yet when the last defender for Central Square knocked the ball out of his hands, and then Mikey Porter had a pair of interceptions that changed the momentum.
Instead of going into the break up with a 17-14 lead and the momentum they would have if Page took that to the house, the Hornets were down 14-10, without the ball, to begin the second half.
Muench mentioned the missed opportunities in the short conversation with his team. He said that the entire team, including the coaches, has to be better as he reminded his team that there is a long road ahead, so they have to be better and get better each practice.
Defensively, the Hornets just couldn't make the plays that were the apparent difference-makers. They struggled to bring Central Square's running back, Jamie Battaglia, to the ground.
As far as the rest of the season, the Hornet players agree with Muench in that this could be the beginning of a memorable journey if they use this loss to lift them up instead of allowing it to push them down.
Porter said that the Hornets have to allow the loss to motivate them to be successful throughout the rest of the year. He said that they have to play as hard as they can "every snap, every yard, (and) every minute."
Captain Andrew Testani had similar comments as he reacted to the loss. "We can't get hung up on this," Testani said, "we're a good team and we just have to play better."
The Hornets are planning on doing just that next week at Rome and throughout the playoffs while Central Square faces Fulton and isn't planning on letting up and looks to make even more noise.