Passion.
That's what Alex Rodriguez has brought with him anytime that he has moved a muscle. Even though he has had a number of ups and downs throughout his career, that seven-letter word has helped him get through the tough times.
Throughout his career, it has drove and pushed him to be the best player and person he can be, which is obvious to somebody who just watches him take batting practice. His work ethic is what pushed him to become better each and every day, on and off the field.
When Yankees' manager Joe Girardi spoke with the media moments after the organization made this announcement public, he kept on praising Rodriguez for his work ethic and made it clear that A-Rod has dedicated his whole life to the game and even added that he has had to restrain the third baseman to prevent any injuries.
As much as Americans should admire his work ethic, one of the biggest things that we should remember about him is the passion that he showed. The passion wasn't just on display on the field, A-Rod showed passion when there wasn't a game going on.
In the middle of the 2008 season, my family and I went to Yankee Stadium and went on the field as Johnny Damon's guest, but, the problem was, when we went down, Damon was in Florida rehabbing from an injury and wasn't there. We still got to go out the field, which is where we met A-Rod, who held me as my family and I took pictures with him.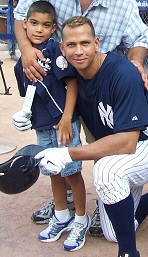 Later that season, when Damon was finished with his rehab assignments, he invited us on the field again. Once again, Rodriguez made a memory for my family and I by wrapping his arm around me for more pictures and then having another conversation with us.
Whether you want to believe it, Alex Rodriguez has made it evident that he is very passionate about his game, baseball as a whole, and his fans and kids who look up to him.